Maruyama saka shita
Miyakoshiya coffee shop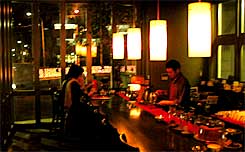 Next time you are out walking,enjoying the seasons of Maruyama, drop by the Cafe. The atmosphere is perfect for reading books in peace. This place will restore you to optimum mental capability.
A comment from Mr. Oikawa
(One of the staff)
This main shop has Miyakoshiya's traditional Nell dripped menu. In addition, it has the latest espresso machine which allows us to switch italian and espresso according to the menu. You can enjoy a variety of expresso to suit your taste. You can also enjoy the vary of espresso. Please feel free to ask us.
South 2 West 28, Chuo-Ku , Sapporo
011-221-8007
Open at 10:00AM to 12 Midnight