News Headline
"Miyakosiya Coffee Tsukisamu Shop"
opened August 28.
Tsukisamu,West 1-11,Toyohiraku,Sapporo
"Miyakosiya Coffee Hakodate Shop"
will be open on the end of September
Minatomachi,1-1-1,Hakodate
Introduction Our Shops
Here , each of our shops is featured in turn on a basis.
Hall stairs Espresso Bar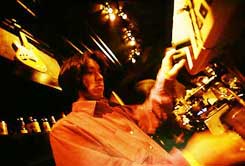 We have not only wonderful alcohol menu but also have a greate selection of Delicious cakes even at midnight.Why don't you change your scenery one night,, and spend time over a delicious, relaxing dessert ?
A comment from a shop manager
We have an excellent reputation among Susukino drinkers,who enjoy tasty coffee with us after a night out drinking in Susukino.You can enjoy sophisticated music through a fantastic eight-speaker sound system. We have a range of alcohol as well. This is the biggest shop of Miyakoshiya with 66 seats Please have a wonderful time in this spacious place.
South 2 West 28, Chuo-Ku , Sapporo
011-221-8007
Open at 10:00AM to 12 Midnight
In the next update,we'll introduce
Hall Stairs Cafe Yuraku Bld Shop